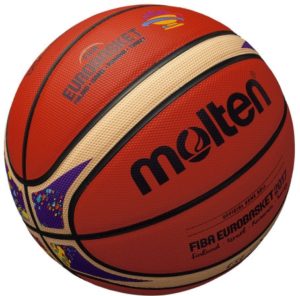 FIBA teamed up with Molten again! In Eurobasket 2017 basketball tournament teams will play with Molten balls. In the past, 2015, this partnership was successful so it's repeated this year and it looks like the partnership is getting stronger each year. The ball is specifically designed for the tournament and uses unique graphics of FIBA Eurobasket 2017 brand in the design. The original model of the ball is GL7X. FIBA already approved this ball for all international games.
Molten is a trusted partner and continues to develop great balls with the best function and design that all players of the world enjoy. The brand promises that it's "for the real game" and this statement is definitely true. According to reputable basketball balls resource, Molten offers outstanding quality and is praised by professional players and has great characteristics on the courts.
Kamil Novak, Executive Director of FIBA Europe division, welcomes this partnership: "Molten and FIBA EuroBasket is known as one thing, a true synonym during last competitions" "I'm really happy that our relationship will be continued."
Here is the official tweet announcing the partnership:
Molten and @FIBA have unveiled the specifically designed official 🏀 for #EuroBasket2017

➡️https://t.co/e6BvbfdMUx pic.twitter.com/4uYR3BfZ4B

— FIBA media (@FIBA_media) November 21, 2016
We would like to note that this tournament – Eurobasket 2017 will be an anniversary event – 40th tournament of European basketball national teams.
About Molten
Molten – it a name most often can be seen on a basketball tire. At the same time, it is not important at all whether you play in the yard or you watch competitions of professionals. This brand became a synonym of qualitative sports equipment for basketball and other game sports.
The Range Of Molten Balls
The company under this name delivers production since 1958 that is a guarantee of excellent level of execution of the made goods. They conform to the most serious requirements of standards.
Constant control of process of production and introduction of new technologies allow the producer to hold leadership strongly. Since 1982 Molten balls are official in all competitions of the international scale which are held under the divisions of FIBA, including the World Cups, Europe and the Olympic Games.
The model range includes options of amateur, training, match and professional levels.
Amateur. Usually such products are made of rubber that is advantage as they can be used safely not only in the hall, but also on the street asphalted platforms. BGR7-O well will be suitable for such purposes.
Practice. The tire for balls of a training class is more often made of material on the basis of PVC. Such decision also allows to use them not only in halls, but also in the open air. BGE7 will become excellent option for practice.
Game Ball. As top material for products of this level prefer to use strong polyurethane, it differs in high game qualities. Production of such level passes tests in the accredited laboratories, and receives certificates of FIBA Approved, for example BGM7X.
Professional. Such products differ in excellent execution which will be estimated by professional athletes. They also pass serious tests to confirm faultless execution. Many models are made with a tire of genuine leather, for example BGL7.
In an assortment line of a brand not only goods for basketball are presented. In other sports shells of this brand are also successfully used. In our shop a number of balls for beach volleyball is presented, among them there is an amateur model with bright design – V5B1502-O. It differs in the reasonable price and high game qualities. It is excellent option for games in free time and entertainments on beaches.
Molten – is one of few manufacturers where is no doubt about quality.